MS010620
DISCONTINUED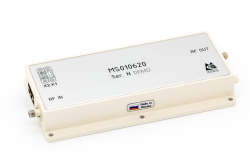 Description
Model MS010620 is a multi-octave high power amplifier operating from 1 to 6 GHz range with 40 Watts typical output power. It provides 59 dB of small signal gain with flatness ±2.0 dB. MS010620 uses advanced GaN microwave device technology and provides long term reliability and high ruggedness. Hermetically sealed package implements reliable operation in various harsh environments.
Features:

Wideband high power amplifier
Frequency range 1-6 GHz
GaN technology
40 W RF Output Power (typ)
50 Ohm Input / Output Impedance
Digital 5 – bit gain control (1dB-31dB)
Built-in output power detector
High switching speed (300 ns)
Gain – temperature compensation

Applications:

Communications Systems
Test Instrumentation
Broadband RF Telemetry
Point To Point Radio
Fiber Optics
Documentation
More Information
MS010620 (Мощные широкополосные усилители )
MS010625 (Мощные широкополосные усилители )
MS010625 (Power Amplifier Modules)
Публикации. Cовременные твердотельные СВЧ-модули. Новые разработки компании "Микроволновые системы"
Публикации. Усилитель СВЧ мощности диапазона 1—6 ГГц с выходной мощностью 30 Вт на основе GaN транзисторных балансных схем
Publications. 1-6 GHz 35W Balanced GaN-HEMT Power Amplifier with Innovative Quadrature Couplers
Публикации. Балансный GAN-HEMT усилитель с выходной мощностью 35 Вт в диапазоне частот 1-6 ГГц с инновационными квадратурными мостами